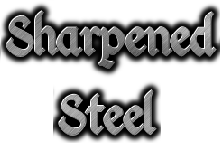 Sharpened Steel
Sharpened Steel takes place in the world of Stratom, where you can embark on dangerous quests or relax on sandy beaches. Explore grassy plains, scorching deserts, murky marshes or even underwater! Or maybe you want to test your skills in some of the minigames dotted across the world. Learn powerful magic, buy strong equipment, and defeat the strongest monsters that the world has to offer. Whatever you wish to do, the choice is yours in Sharpened Steel. Hours of gameplay, many possibilities, lots of monsters, the amount of activities in Sharpened Steel will have you playing again and again. So download now, it's 100% free, with no hidden costs, doesn't require a ultra fast PC to run, and the download will be complete in a matter of moments! Start exploring now, for free!
Install instructions
Simply download the Windows Installer file, open it up, and follow the instructions given. A shortcut will be added to the desktop for easier access, and you can choose to open up the game straight after installation.